Embarking on the journey to launch a wedding planning business can be an exhilarating and rewarding venture. This endeavor taps into a joyous, multi-faceted industry where creativity meets meticulous organization. The steps outlined in the subsequent sections provide a roadmap to establish a successful wedding planning business, from ideation to execution.
Embrace this rewarding journey, remembering that every successful event begins with careful planning. And remember to use support tools like wedding seating chart maker to make this journey easier.
Create a Comprehensive Business Plan
As a wedding planner, your exceptional organizational skills can be used by crafting a detailed business plan. Incorporate an overview of your business, including a mission statement and company details. Additionally, outline your strategies for market analysis, products and services, marketing, budgeting, projected earnings, and more.
Ultimately, your business plan will serve as a roadmap to navigate the initial phase of starting a business. You can avoid potential obstacles by addressing every aspect in detail, from ideas to creating a wedding seating chart sign.
Establish Competitive Pricing
Before booking your first clients, it's crucial to understand your overall pricing structure clearly. Determine your desired earnings and the number of weddings you can feasibly handle annually. Consider overhead expenses such as website maintenance, advertising, marketing, business taxes, contractor fees, and other related costs.
Crunch the numbers to calculate competitive hourly rates or create attractive package deals. Conduct market research to compare the pricing of other wedding planners offering similar services in your local area. Strive to be competitive in your local market rather than aiming for nationwide pricing.
If you have a small budget, consider starting with smaller-scale weddings to ensure you meet your clients' expectations. Avoid overextending yourself and disappointing clients.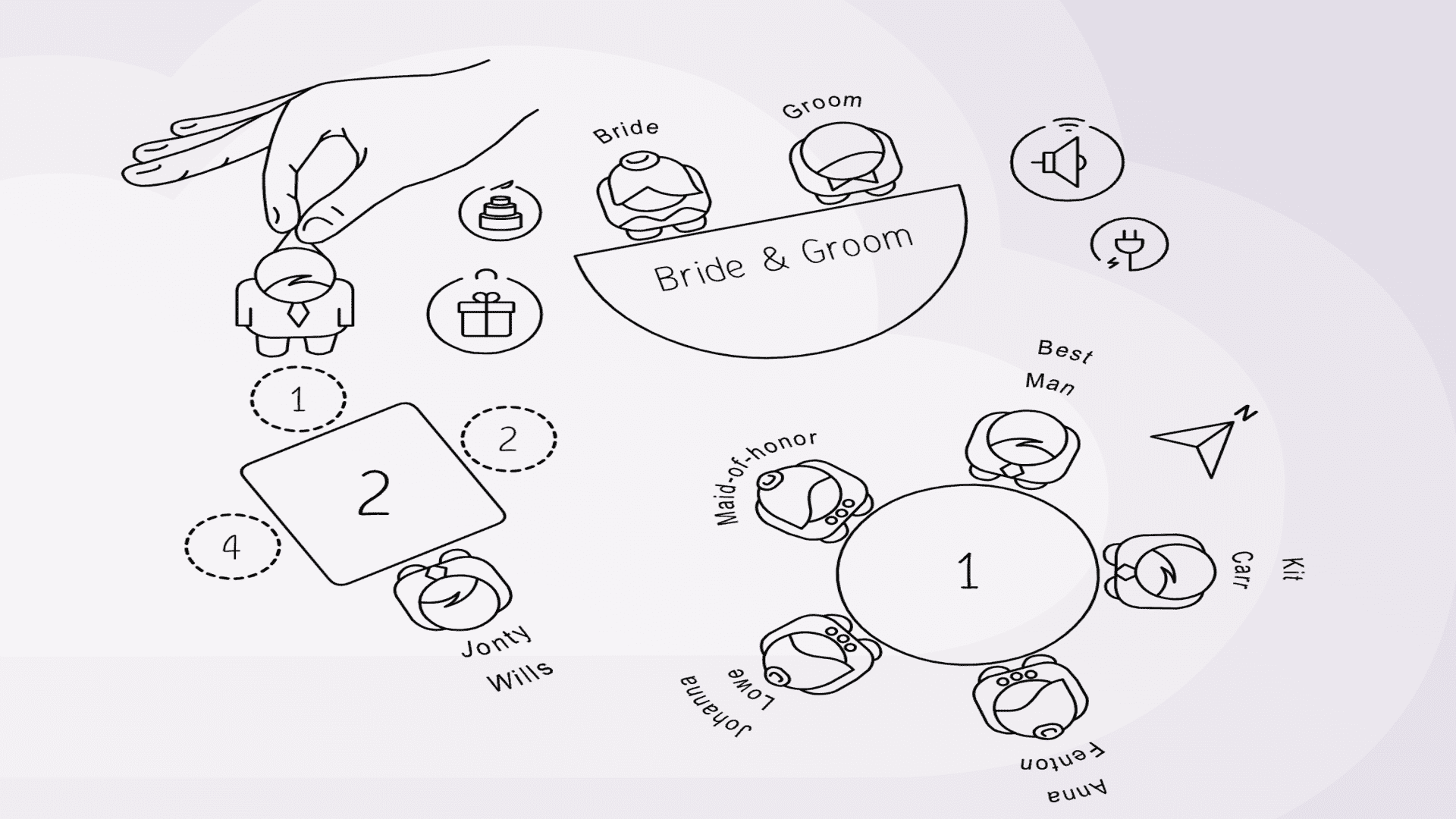 Cultivate Relationships with Reliable Vendors
As a wedding planner, you'll often need to coordinate various aspects, such as hiring florists, catering companies, and rentals. Establishing long-term relationships with trusted local vendors can help you secure discounted prices for your clients. The more reliable vendors you know and recommend, the more trust you'll earn from your customers and strengthen your brand.
For those starting, utilize online directories to find local vendors. Read reviews and meet with each vendor beforehand to ensure they provide top-quality service. Invest a little extra in vendors you have a strong working relationship with. Not only will they enhance your company's reputation and dependability, but they may also provide exceptional service.
Develop Your Brand and Expand Your Client Base
Advertising on social media platforms is crucial for a wedding planning business. While brides favor Instagram and Pinterest, consider expanding your presence to reach a wider audience. Additionally, advertise your services on wedding-specific websites. Attending bridal shows and expos can also be a valuable investment.
Your marketing efforts should direct potential clients to your business website, where fresh content and high-quality photographs showcase your capabilities as a wedding planner. Remember, branding plays a pivotal role in establishing a wedding planning business. Maintain consistency across all platforms and reflect the personal touches that set your business apart from the competition.